Why I loved growing up in a drug addicted home and wouldn't change it for the world
I haven't always been this woman: extremely confident; very much comfortable in my own skin; the do-it-all mom; the creativity; the BUSINESS!!
No, I was a young woman extremely touched by life in many ways that changed my foundation and personal beliefs. Life as a child rocked my core so hard, I think it broke me in many places that I didn't understand how to fix. Or if it even should be fixed.
Raised on welfare, I learned at an early age that the struggle was real. Both of my parents and my older sister battled with drug addiction. After I shared this on national television on Project Runway the emails and messages flooded in. But what I wish they would have shared was the other side of that story. I LOVED MY UPBRINGING. Being dragged through the chaos helped me achieve the mindset I have today and I'll tell you why — even though my parents were on drugs and that heavily ruled my life I ALWAYS KNEW I WAS LOVED.
Love can be a powerful tool and it breeds deep creativity.
No matter what, my mom always taught me I could do and be more. She would tell me how smart I was, and that my sister and I would be the ones to break the cycle of addiction. My dad taught me about tradition, hard work, and how to be a fucking soldier through anything. They always told me I was beautiful– but not just my face, my soul. They taught me how to use my emotions. And no matter how fucked up I was, they loved me harder because of it. They believed in any dream I had, and still do to this day. THEY NEVER HAVE OR EVER WILL GIVE UP ON ME. My parents are 10+ years clean and I am the product of their constant love through life at its worst. They taught me how to love, especially when you don't deserve it, and they taught me how to fight for what was mine and what I DAMN WELL deserve. They taught me how to grieve and keep going. They taught me what "NO MATTER WHAT" really means. My parents taught me, what I believe, is the most important thing is in this world, LOVE and love for oneself.
Because of this I have learned to find beauty in the ugliest of times, and in all the forms it takes. Hate has many faces and I've learned to stare it in the eye and find the beauty in it. I have wrapped myself literally, creatively, and physically in representations of triumph, through great sorrow and loss. I empathize with the color black because that is the color of the hole that I mentally climbed out of. I relate to leather because of the hell you can put it through and that it only comes out more beautiful because of it.
My upbringing living in a drug addicted home shaped the woman I am today. It carved out the choices I made in life. I give thanks to it.
But I had a choice and…
I could have chosen love or I could have chosen hate.
And for a long time, I chose hate.
But after giving birth to my oldest baby at seventeen years old and a junior in high school, I chose love. Seeing her perfect little face changed my whole being. Knowing she would grow to watch me as a Woman (and learn what that meant) changed my path almost instantly. She gave me purpose and a sense of being — a responsibility to love her, cherish her, and show her how beautiful life really is– even when it's not.
The road was never easy, and after having my daughter at such a young age I knew I needed to get a job. I knew I didn't want to raise Perseaus on welfare for the rest of my life, relying solely on food stamps to feed us. So I got "A Job." Not a career, not a passion, not a Mission in Life… a job. I worked at the Oakland Home Depot for two years. I met a lot of people I still love and appreciate today, but I was depressed. I was unhappy. And then, I was fired.
At the time, my baby girl and I lived out of the dining room in my sister's house that we rented on Section 8, right off of Foothill & High Street in Oakland, with not a damn dime to my name. I sat on her futon and cried. I cried HARD. I didn't know what to do, how to do, or where to go from there, but I knew I couldn't go back to a "JOB." My soul was dying and I could tell my daughter could feel it and see it in me. I wasn't the woman I wanted her to look up to. And like God's words dropping from the sky, my sister (who helped raise me and always believed in any dream I ever had, even when I wanted to be a stripper) told me, "Why don't you go to school to make shit."
WHAT?
Yes, make shit.
THESE WERE THE MOST PROFOUND WORDS I had heard my whole life. My first response was that being a Designer wasn't a true career and not a real job. (I know, I sound like someone's very unsupportive mom). So, she and her friend, who was currently hooking to make money, sat me in front of a computer to look up "Designers." I FELL IN LOVE with the world I just discovered at my fingertips. I had always found happiness (which was rare for me) in creating, but never went into the true depths or believed it could be my life. Life as an artist, life as a Designer. I didn't think it was possible to make money in this field because I had this very uneducated notion that artists are poor. And poor I knew alllll too well—it was everything I came from, and everything I wanted to leave behind. But true to her core, my Sister believed I could, and then so did I.
I didn't know how I would pay for it, but I made an appointment with an art school in San Francisco and never EVER looked back.
There I found my soulmate. Someone I had been looking for my whole life — Me. I no longer felt empty and lost. And the minute they taught me how to sew I knew I wanted to create pieces that made women feel strong when they wore them– a shield, a blanket that hugged them and made them feel like a bad ass. Speaking for myself — let me know if you can relate – there are days as a woman that I've felt worthless and weak. When I've needed that extra strength to get up and do the damn thing. Needed the extra edge of strength. Needed a constant near reminder that I AM STRONG and I am WORTH MORE than I am capable of understanding at that moment. This is what my leather means to me and why I continue to create pieces with it.
Today I am a self-made CREATIVE business owner. A mom of two beautiful children, I'm a woman with a mission and a passion to create garments that you will keep forever, and that will be a constant reminder of how powerful you can be, will be, and ARE. A reminder, every time you put that garment on, of how BEAUTIFUL you are all on your own. A reminder to you and everyone around you that your presence is POWERFUL. The gentle reminder of everything you have gone through and triumphed over, no matter how big or small. YOU TRIUMPHED, and no one can take that trophy from you.
I am a creative who celebrates the emotional value, not runs from it. A woman who encourages all Women to run into our feelings, not away from them. 
And my medium to carry out my mission is fashion.
I found a deep romance within my story. I fell in love with it. The rise and fall and sorrow.
If I hadn't gone through what I did — if I didn't get dragged through the chaos, witnessed the drugs, feeling the hunger, feeling lonely and if I hadn't gone without — I wouldn't have the creative drive and depth I HAVE TODAY. I would not have been able to start a company with nothing and make whatever and whenever work for me. If I hadn't gone "without" my whole life, I wouldn't have known how to build my empire with the broken pieces I lived in.
CANDICE CUOCO the brand is forever a place I celebrate STRENGTH, DEPTH and ROMANCE…..
And I make it look sexy as fuck.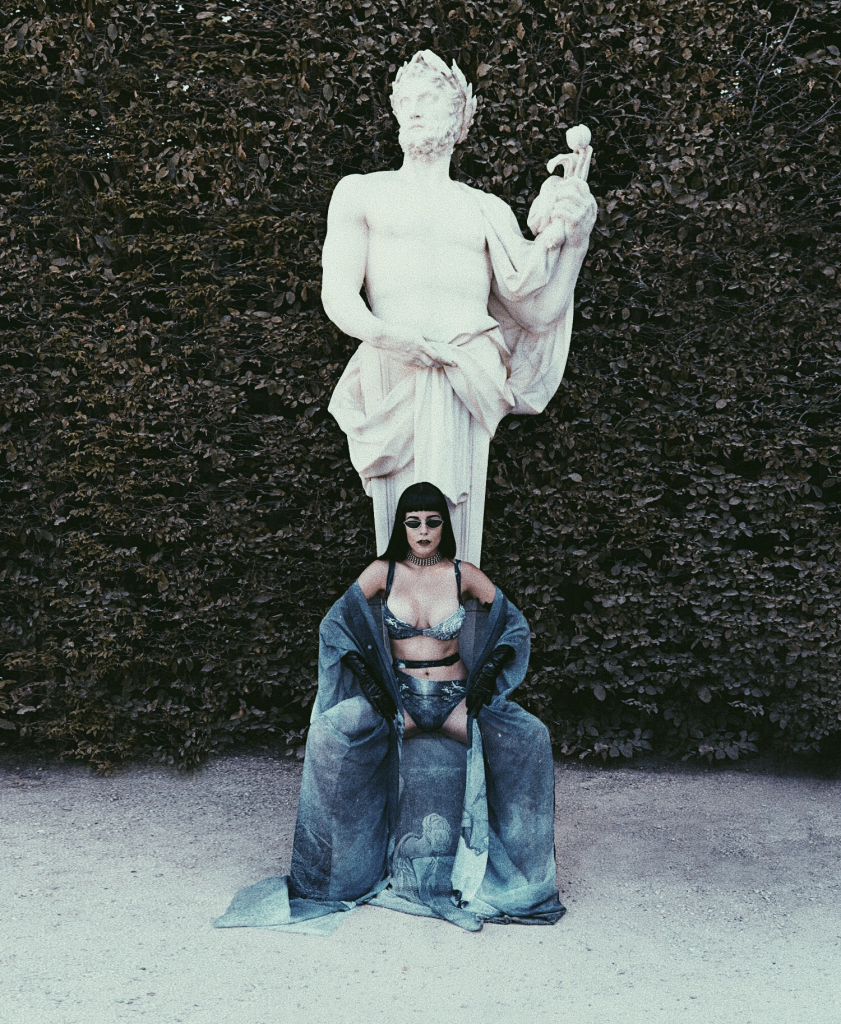 CANDICE CUOCO has appeared on-schedule at Mercedes Benz New York Fashion Week, as well as at London, Paris and Los Angeles Fashion Weeks. Her work has also been featured in Vogue, ELLE, Marie Claire, and Glamour magazines, and was on the cover of Diablo magazine. Her garments have been worn by celebrities throughout the entertainment industry, on the red carpet, in music videos, and featured on television. 
In 2015 Candice was a finalist on the 14th season of Project Runway, during which she won multiple challenges and was regularly selected as a top designer. In 2018 she was invited back for Project Runway All Stars.
The San Francisco Fashion Awards have honored Candice as "Designer of the Year", "Best Emerging Designer", and "Most Stylish" and Project Womens' selected her as "Best Designer".
Candice continues to exhibit sophisticated provocation through an intellectual fashion ethos.