Behind the Design: East Bay Fashion All-Stars
These three savvy designers and boutique owners are changing the face of fashion.
By Caitlin McCulloch
Candid With Candice
The reality TV star brings a healthy dose of high fashion to Walnut Creek and beyond.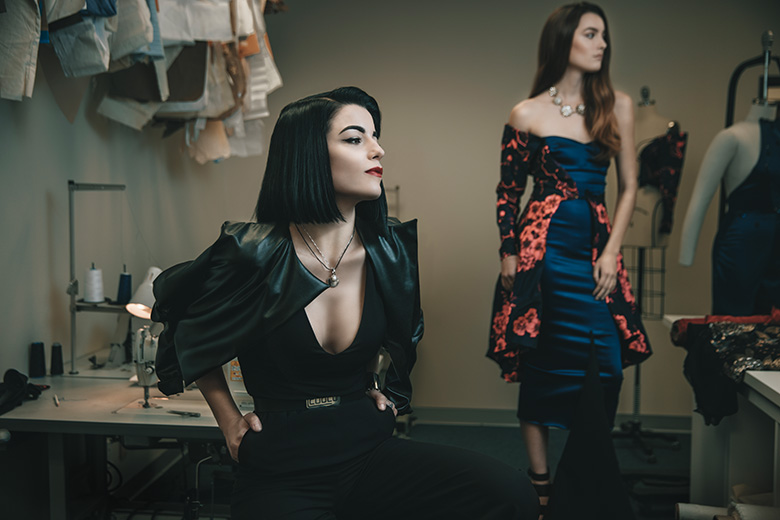 Photography by Marc Olivier Le Blanc
Sipping a hibiscus tea at Walnut Creek's Coffee Shop, Candice Cuoco can't help but stand out. While it could be her fire engine red lipstick and jet-black hair that are warranting a few double takes, it's likely her run to the finale of the most recent season of Project Runway that's drawing the second glances. Cuoco impressed the judges with her avant-garde take on design, mixing her use of unconventional materials with a wearable, edgy style.
Instead of using the show's momentum to pack up and jet to a fashion mecca like New York or Paris, Cuoco chose to put down roots in Walnut Creek, where she has opened a new work studio. As she tried to decide between preparing for the London or Los Angeles fashion weeks, we caught up with Cuoco to talk about her stint on the reality competition show, the inspiration behind her nontraditional designs, and why the East Bay suburbs are primed for a big dose of high fashion.
Q: How did you get on Project Runway?
A: [The show] reached out to me. I don't know how they found me. I told my daughter that I didn't think I was going to do it since I would be away from my kids. I remember her standing up on her tippy toes and getting in my face. She said, "If you do not do this, I will be so disappointed in you." I submitted at 11:59 p.m. the day [the application] was due.
Q: What was it like being on the show?
A: Project Runway felt like my version of heaven. They feed you, take you to a giant beautiful studio where you get to work, provide all of your materials, and give you inspiration for what you need to do. It was stressful, but I didn't realize how worth it it was until I made it halfway through. Being that close and realizing you may not make it to the end was maybe the worst.
Q: What was the most memorable piece you created for the show?
A: The most memorable piece for me was surprisingly not the week that I won, but my three-dimensional avant-garde gown. [Visiting judge] Mel B. said she wanted to wear it to a red-carpet event. It just shocked me because some of the judges weren't too crazy about the gown, but that's OK because I loved it.
Q: On the show and off, you tend to use a lot of leather. Why?
A: I have a personal connection with it. A lot of qualities I love about women, I love about leather. I love how much you can put it through, and it still passes the test of time. There's a strong message behind leather when women wear it. It makes you feel good, more confident; it gives you an edge.
Q: Is your style similar to your designs?
A: That was a lesson I learned on Project Runway. In the beginning, I would create things that I probably wouldn't wear. I would do color and all these crazy pieces because it felt good to create them. One day, [Heidi Klum] was critiquing me and said, "You have a cool style; you're put together really well. Why don't you make pieces that you would wear?" That hit me, and it's recently changed my aesthetic.
Q: Out of all the places in the world where a successful fashion designer could set up a studio, why Walnut Creek?
A: I've stuck out like a sore thumb since I've gotten here, but I like to watch the women. They have this very powerful elegance—they are a soft punch to your face. It's hard to do, and it's a hard thing to pull off. It's also a great place for my two kids to be, and it's close enough to the city that I can still work there when I need to.
Q: What's up next for you?
A: I'm collaborating with This Is Ground. The owner [and leather designer] Mike Macadaan is probably one of the coolest guys you'll meet. He is really down-to-earth, cares about his product, and creates functional pieces. I'm really excited about my design and his design coming together. It's got a story to it, and that's what I love.
Q: And after that? Is there a master plan?
A: I'd like to be in a number of different stores, but it has to be the right relationship. Some of my pieces would do well in Saks; others would do well in London. I would love to be a costume designer for a few films in the near future. Down the line, I don't want to do brick and mortar for 10 years, but you never know in fashion. I'm the kind of woman that doesn't turn down anything.