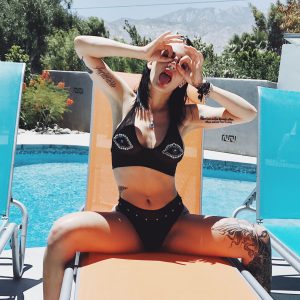 Cutting-edge fashion designer Candice Cuoco and hip-hop and fashion icon Vanessa Simmons announce the launch of their new swimwear collection, BAD BUTTERFLY SWIM.
The collection is an extension of the pair's BAD BUTTERFLY couture fashion line, which earned rave reviews as the finale of this year's LA Fashion Week runway shows.
Coming from a pair of powerhouses, it's no surprise that the swimwear collection, like BAD BUTTERFLY before it, will celebrate women's strength.
[qodef_blockquote text="My garments embody the idea of armor. When put on, laced up, zipped in, it transforms the woman. I always want the women who wear my garments to feel empowered. The pieces I create suggest ownership of oneself as a woman. Society tells women they have to be soft and quiet to fall in the lines of being a Lady. I don't want to be a Lady, I am not soft in character nor quiet, and I do not want to design for a Lady. I want my garments to scream 'I design for WOMEN WITH STRENGTH.'" title_tag="h4″ width="100%"]
– Candice Cuoco
SHOP BAD BUTTERFLY SWIM NOW: