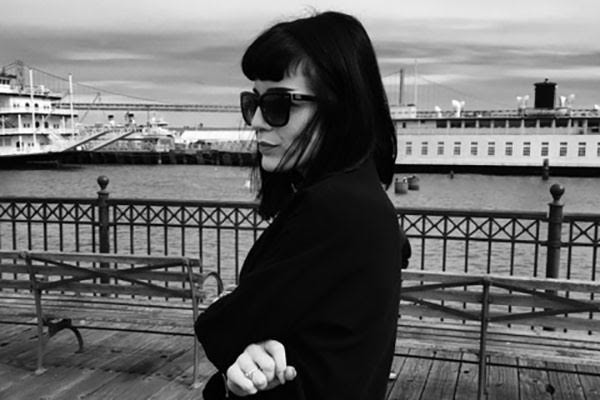 San Francisco-based fashion designer Candice Cuoco is a force to be reckoned with. Her bold designs had already been featured on lavish runways from New York and London to Paris and Milan, before the burgeoning designer caught the eye of Project Runway's esteemed producers.
Now Cuoco will get the chance to show off her designs on the small screen as a contestant on season 14 of the hit fashion show. We sat down with the local powerhouse to get the inside scoop on the latest season.
7×7: What is your favorite thing about designing?
CC: My favorite aspect of designing is the freedom it gives me to explore every single avenue. My design process allows a sense of freedom not allowed by everyday mundane life.
7×7: Describe your signature style.
CC: My signature is always confidence and strength. When the women I dress walk into a room I want them to be felt more than seen. There is also no CCUOCO without the color black.
7×7: Why do you live in San Francisco?
CC: I love the Bay Area. It's a diverse environment and everyone here is more open minded. I have to be surrounded by the movers and the shakers, those who aren't afraid to explore the unexplored. That is why is live in SF.
7×7: What was a recent "find" in SF?
CC: The highest platform shoes I've ever seen creeped up on me in the Castro a few weeks back. They spoke to me on so many different levels.
7×7: Where do you go to seek inspiration for your work?
CC: London is where my heart and soul is but it doesn't stop there. The constant change in fashion means always looking for more: more places, more destinations, just more. I've always been described as an insatiable soul but really I'm just a woman in search of more. I'm always wanting to learn and grow and change like a chameleon.
7×7: Fill in the blank: For pure aesthetic, there is nothing like…
CC: … raw open individuality.
7×7: What design are you most proud of?
CC: There is a black leather gown that was studded by hand in my kitchen in only one day. 1,800 hand-studded crystals with a leather-panelled fish tail.
7×7: What event were you most proud to have participated in?
CC: Ask me again when I've landed a spot in Mercedes Benz Fashion Week. Every season I get closer and closer.
7×7: If you could design a piece for anyone in the world, who would it be?
CC: I would love to design a piece for Anna Wintour. I would dress her in a beautiful bold red and yellow, floral, laser-cut leather cocktail dress. The dress would go just past her knees and be short sleeved with a high neck that hits just high enough for her jewels to sit on top of. Anna is a force to be reckoned with and I look forward to meeting her one day.
7×7: If you could have your designs featured at any event, what would it be?
CC: Dear VOGUE,
During your next VOGUE UK festival I believe CCUOCO would rock the house.
7×7: What is an indulgence you would never give up?
CC: I am insanely addicted to coffee and it's not anything I'm giving up any time soon. And leather, of course.
7×7: What is your favorite SF neighbourhood?
CC: Walking into the Castro you just feel alive in so many ways. You feel free, you feel empowered to be anyone or anything you want to be, and most of all, you feel accepted and celebrated no matter your race, color, or gender. That's a rare feeling to come across in most areas around the world.
7×7: Where do you go in order to clear your head and relax?
CC: I run to my three-year-old son. He hits the reset button in my head and makes me stop thinking. We sit and play trains until we are blue in the face.
7×7: What are your favorite local getaways?
CC: West Coast Leather is a favorite local shop in SF. It's like being in heaven surrounded by so many beautiful pieces of leather.
7×7: What does your average workday look like?
CC: Ready? I wake up at 6am, I get both kids ready for school and myself for the day. When I get to the studio it's a madness mixture of sketching/draping/ sample sewing/ interns patterning/ samples coming in/ garments being sent out/ over 100 phone calls/ hundreds of messages/ emails and coffee to keep me going. Every day is a circus of controlled chaos.
7×7: Besides Project Runway, what is an upcoming project that you are most excited for?
CC: London Fashion Week runs my calendar twice a year. My whole life revolves around two collections right now. London is a city I feel most alive in and to be able to build a brand there has been just what the doctor has called for.