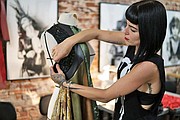 It's a place that offers many opportunities but only to those designers who are willing to work hard. "Anything that is worthwhile takes a minute," she said. "It's an inviting thing, but it's a scary thing that brings people in and pushes them out. It's a great place to be if you're okay with that feeling."
While some designers might allow this type of environment to affect their work negatively, Cuoco uses the city's challenges to fuel her determination and finds inspiration in the styles of Los Angeles that contrast with her own.
"My work and my brand are dark, but it's very romantic. In LA, everything is really cool. Streetwear is massive here and it's really hip. It lent that hand into my work," she explained. "It was something to breathe a little bit of different kind of life into my designs."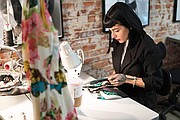 Cuoco's designs were seen last March at Art Hearts Fashion presentations at The MacArthur near downtown Los Angeles. Her Belladonna collection was infused with her signature dark romance in long, flowing dresses; black leather pieces; studded embellishments; avant-garde details and an overall noir feel, capped by large black hats draped with black veils.
A fourth-place finalist on the 14th season of "Project Runway," Cuoco recently competed in the sixth installment of "Project Runway All Stars."
Now that Candice Cuoco has evolved into a brand, the woman behind the name has accepted her role and is ready to expand. This September, she will launch a ready-to-wear collection with NYX cosmetics founder Toni Ko. Named LilyJamesLA, the collection will offer lower retail price points for consumers starting at approximately $80 for apparel and $125 for shoes.
In addition to this new venture, Cuoco is working on her own ready-to-wear line for fans of her couture collections who would love to own a piece but are unable to afford a $650 pair of black velvet–and–chiffon pants or $1,600 leather-and-fur coats.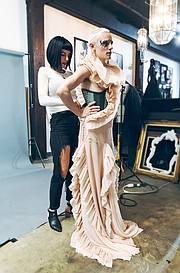 With a tentative Summer 2018 launch, she envisions the line as having pieces from T-shirts that wholesale for $15 to a higher priced vegan-leather jacket wholesaling at $75—an effort to reach admirers of her brand who might not share her love of genuine hide. The challenge lies in finding ways to reduce cost without compromising the integrity that Cuoco feels has been the foundation upon which her brand has been built.
"Instead of thinking, 'How do I dumb myself down?' which isn't the right way of thinking, it's, 'How do I make this effortless and wearable and obtainable but still have that brand identity stamped into it?'" she said. "If I want it for this price point, maybe we'll take a bit of fullness out or rework the design to make it right for the customer and the label."
While she is between design studios and working out of her home in South Pasadena, Calif., the designer made the decision to shift from her in-house operation to an outside manufacturer—NANA Atelier—located in downtown Los Angeles.
"The woman who owns it worked for Parsons [School of Design]. It's a little hidden gem. For so long, I looked for manufacturers and you get people who say, 'Send us your samples and then we can talk.' No, I want to talk now! That was a struggle for me, too. It's like letting your babies out," Cuoco said.
In addition to two ready-to-wear collections, new manufacturing partnerships and moving into a yet-to-be-revealed design space, Cuoco is also partnering with her boyfriend, Yuri Moreira, on a sock subscription service named Dolla Sock Club. During this project, the designer will manage the creative aspects but with no attachment to her brand identity.
"Nothing is enough, but isn't that how all designers should be?" she asked. "If it was enough, I guess we would stop. If we're good, then that would be it. What is there to look forward to? Why move on? You're fully satisfied. You're full. I hope I never come to that point."