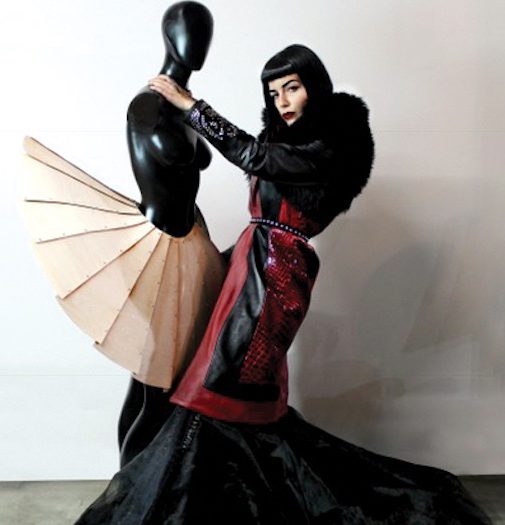 Candice Cuoco has zoomed to stardom with her black leather corsets, transparent gowns, skimpy bodysuits, and artful dresses, wowing daring fashionistas in Paris, New York, and London.
As a sequel to her recent runway show at New York Fashion Week, the 2015 Project Runway finalist will bring what she calls "her most beautiful pieces" to Fashion Week El Paseo, which runs March 17–24 in Palm Desert. The event is billed at the biggest consumer fashion show on the West Coast.
Cuoco, whose fans went wild when she took the stage in New York, says women relate to her expression of both strength and vulnerability. "The main feedback I get from them is that when they wear something I've designed, they feel sexy in a powerful way," she says. "It's like you're going to recognize 'her' presence when 'she' walks into the room."
Black is Cuoco's favorite color. "That way, it's all about the woman," she says. "My pieces show a woman with strength. You're dressed to conquer. When someone first sees you, they see who you are by what you're dressed in. So, what do you want the world to think of you?"
The designer believes "things are shifting now for women." She is unapologetic for her wild leather statements. "Why is it not ok for a woman to be loud or sexual?"
Leather, in fact, is her comfort zone. "I've been around it my whole life. My dad built motorcycles when I was growing up, and my uncle was a Hell's Angel. I tried the sweet, subtle side of design and using color. It just doesn't work for me. I don't think I come from a white-picket-fence kind of place."
Cuoco, 29, grew up in Oakland and is now based in Los Angeles. In her early 20s, influenced by the work of Edgar Allen Poe, she embraced what she calls her "melancholy soul."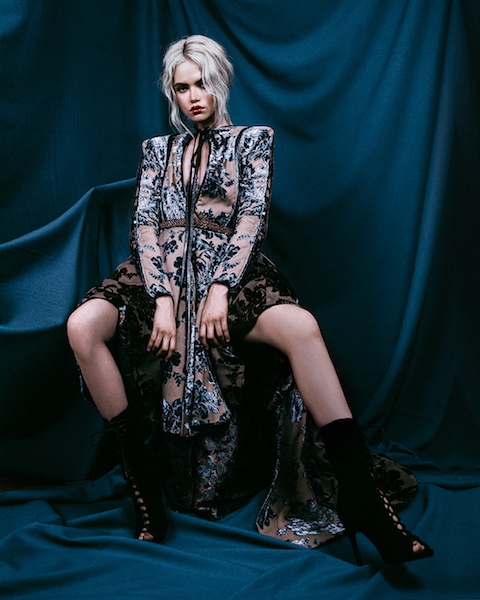 Black is Candice Cuoco's favorite color.
"Everyone sees black as a dark, sad place, but I think people who come from a sad, dark place are more interesting," she says. "Something about a woman who has been torn apart and put herself back together is beautiful. It's ok to feel all the emotions. I get more from life when I dwell in those places. I don't live there, though. There's romance to what I do." One Project Runway judge in 2015 described her work as "dreamy and editorial," Cuoco says she doesn't know how to "not tell a story."
Last year, Cuoco, who studied at the Fashion Institute of Design and Merchandising in San Francisco, opened a 2,300-square-foot showroom and studio in downtown L.A. She says designing hasn't made her rich, yet she would "rather do this and be hungry than do something else and be unhappy. I've struggled my whole life. I'm never quite happy. I've learned to celebrate that about myself."
Runway shows, she adds, are an exercise in "blood, sweat, and tears." Sometimes she and her team go without sleep to finish a piece the day of the show. "Maybe three or four people will buy that garment," she notes. "I compare that with a marriage. I fight with it. It turns me on. I starve with it. If you're gonna go through hell and back, you might as well do it with something you love."