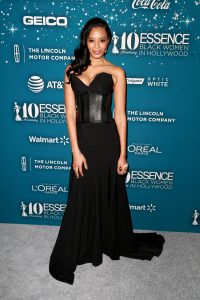 Queen Boss Judge Vanessa Simmons announced the debut of her new fashion line at the 10th Annual Black Women in Hollywood event. She's teaming up with Candice Cuoco, a designer who was a finalist on Project Runway and has been featured at fashion shows in Paris and London.
Vanessa is no stranger to the fashion world. Back in 2005 she teamed up with her baby sis, Angela Simmons to launch the sneaker line Pastry which grossed over $50 million world-wide. She also did hosting duties for Project Runway which was also a success, proving that she is a true fashionista!
Vanessa's new fashion collection will debut at LA Fashion Week next month. We can't wait to see what styles and designs she'll be sharing!